Tennis Elbow Treatment
Tennis Elbow Treatment
Written By ChiroConcepts of Plano West on August 30, 2021
---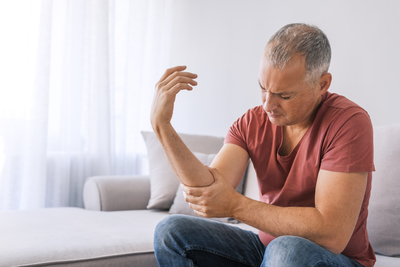 Tennis elbow, or lateral epicondylitis, is a type of repetitive use injury seen not only in tennis players, but in many different types of athletes and manual workers. Tennis elbow is a painful condition that affects the tendons in the elbow joint. It's usually triggered by overuse and strain of the forearm muscles, which are what power your ability to raise and straighten your arm. If you're suffering from tennis elbow, you may feel intense pain that radiates from the elbow down to the wrist as well as weakened grip strength. ChiroConcepts of Plano Wests offers specific treatment plans for sports injuries, including tennis elbow. We employ a holistic approach for your recovery that incorporates cutting-edge equipment to aid in your healing.
A Closer Look at Tennis Elbow
Along with athletes who participate in tennis, golf, and cycling, tennis elbow frequently affects people whose jobs include repetitive motions like using a computer mouse, painting, driving screws, and cutting up food ingredients. The primary symptom of tennis elbow is intense pain that worsens during these activities. You may also experience weakness in the arm that makes it difficult to grip and hold various objects.
To make an accurate diagnosis, your chiropractor will perform a physical exam and apply pressure to the affected area or ask you to move your arm, wrist, and fingers in various ways. X-rays may also be taken to assess physical damage to the tendons and confirm your diagnosis.
Treatment Options for Tennis Elbow
Conservative treatment for tennis elbow includes rest, application of ice to reduce swelling, and the use of over-the-counter pain relievers. However, these therapies are not always effective and may leave you susceptible to reinjury. To effectively treat tennis elbow, it's necessary to address the underlying cause. Often, poor posture and technique in athletic and work activities will lead to excess muscle strain and irritation of the tendons in the elbow. Therefore, physical therapy and lifestyle modifications will be incorporated into your chiropractic treatment plan.
Physical treatment modalities may also play a role in managing pain more immediately and accelerating your body's healing process. These include therapeutic ultrasound, cold compression techniques, and muscle stimulation. Of course, your chiropractic treatment plan may also include spinal adjustment to improve your overall posture and overall wellbeing.
Book Your Appointment for Tennis Elbow Treatment in Plano, TX
For a comprehensive approach to tennis elbow treatment and other sports injuries, you can count on Drs. Matthew Schindlbeck, D.C. and Chris Valtierra D.C. at ChiroConcepts of Plano West. We've helped a wide variety of patients find relief from injuries and prevent re-injury through proven treatment modalities. Visit our website or call (972) 781-1878 to take the first step toward your healing.

Posted In: Chiropractic Tennis Elbow Treatment