The Best Thing You Can Do for Neck Pain
The Best Thing You Can Do for Neck Pain
Written By ChiroConcepts of Plano West on April 30, 2021
---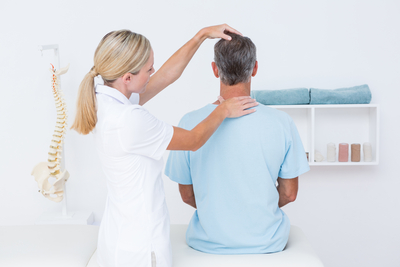 The best neck pain treatment is found in a chiropractic office, where a doctor will assess your case and approach the root of the problem. Home remedies and pain pills address the symptoms; not the cause.
If you suffer from neck pain, it's critical you get yourself over to ChiroConcepts of Plano West before said pain becomes a lifelong issue. Expert medical care is the best thing you can do for neck pain.
Neck Pain and Chiropractic Care
Poor posture and age-related wear and tear are the two leading causes of neck pain. So that occasional sore morning or random cluster of a few days of pain are warning signs something's out of balance. Putting off proper medical care can turn an easy fix into a major condition.
Pain is your body's way of saying you need to change something, namely how your body moves in hopes of getting the pain to stop. You need to find out if your pain comes from a herniated disc (which can cause nerve damage), cervical spondylosis, which starts off with no symptoms but gets worse as you get older, a bone spur, which are more common with age, or something else.
Chiropractors can make an accurate diagnosis of your neck pain and give you an appropriate adjustment. Chiropractic neck adjustments are designed to carefully loosen up the joints of the cervical vertebrae in your neck. This takes pressure off pinched nerves, ends muscle spasms, and more.
A review of scientific literature published in the March/April 2007 issue of the Journal of Manipulative and Physiological Therapeutics, confirmed the efficacy of chiropractic care for treating neck pain. Combining chiropractic with exercise further reduced pain, providing superior results to just popping pain medication.
Receive True Neck Pain Relief in the Dallas Fort Worth Area
Dr. Schindlbeck comes from an athletic background where pain from injury led him to seek chiropractic care. These events put him on the path to a career in chiropractic after his own treatments transformed his life. He is on a mission to help others and spend much of his professional time caring for local collegiate and professional athletes.
Our Plano clinic offers chiropractic, dry needling, physical therapy, spinal decompression, and the Graston technique to help you with your neck pain.
Have questions or need to schedule an appointment? Call us at our Plano West location at (972) 781-1878 or go online and fill out a contact form. We look forward to helping you.

Posted In: Chiropractic Neck Pain Treatment Pain Treatment