Whiplash Can Lead to Disability
Whiplash Can Lead to Disability
Written By ChiroConcepts of Plano West on May 28, 2021
---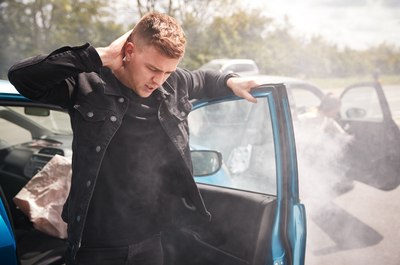 There's a neck movement test that can predict within 94% accuracy which whiplash injuries will lead to disability within a year of a car accident. The less range of motion, the more pain, and the more intense your symptoms, like dizziness, nausea and blurred vision, the greater your chance of disability.


At ChiroConcepts in the Dallas Fort Worth area, we don't want you to become disabled. We also want to make it abundantly clear that leaving whiplash untreated leaves you at risk for developing chronic conditions, including pain and headaches, loss of range of motion, and sets you up for future disc problems.
Chiropractic Care and Whiplash
Whiplash is a soft tissue injury that--in the short term--can cause neck stiffness and pain, decreased range of motion, pain in the upper arms, back and shoulders, blurred vision, headaches, and more.
Whiplash strikes approximately two-thirds of motor vehicle accident victims, often taking two days before symptoms set in. Whiplash moves the spine out of proper curvature. Between 45 and 85% of whiplash victims who didn't see a doctor are still suffering years later.
Our chiropractors work to help restore range of motion in your neck and stop triggers causing pain, headaches and other whiplash symptoms. We help rehabilitate neck muscles, and expertly manipulate your spine to put everything back in place so your body can fully heal. We also prescribe at-home self care to complete and speed up the recovery process.
Get Treated for Whiplash in the Dallas Fort Worth Area
Dr. Schindlbeck comes from an athletic background where pain from injury led him to seek chiropractic care. These events put him on the path to a career in chiropractic after his own treatments transformed his life. He is on a mission to help others and spend much of his professional time caring for local collegiate and professional athletes.
Our clinic offers chiropractic, dry needling, physical therapy, spinal decompression, and the Graston technique to help you with your back pain.
Have questions or need to schedule an appointment? Call us at our Plano West location at (972) 781-1878 or go online and fill out a contact form. We look forward to helping you.

Posted In: Chiropractic Auto Injury Whiplash