Shoulder Pain Treatment: Chiropractic, Physical Therapy, or Both?
Shoulder Pain Treatment: Chiropractic, Physical Therapy, or Both?
Written By ChiroConcepts of Plano West on August 11, 2020
---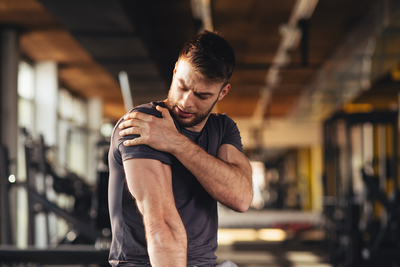 When it comes to shoulder pain treatment, you're faced with many options.
While some work, they might be harmful or addictive. Others simply don't work at all.
Thankfully, there is a shoulder pain treatment that can provide relief in a safe, natural way – a combination treatment of chiropractic care and physical therapy.
Shoulder Pain Treatment: Why Choose a Multi-Tiered Approach?
On their own, chiropractic adjustments and physical therapy can prove to be adequate shoulder pain treatment options. Why does your Plano chiropractor choose to use one in conjunction with the other? It's because, together, these therapies can provide faster relief, more thorough healing, and less risk of long-term damage.
Here's why these therapies work so well in tandem.
Benefits of Chiropractic Treatment
When your spine is out of alignment, it puts pressure on your nerves, muscles, tendons, ligaments, and joints. To protect the injured part of the body (or the area that's misaligned), other parts of your body will overcompensate. The result is added tension and strain, causing:
More pain
Higher risk of further injury
Risk of long-term damage
Adjustments from your Plano chiropractor realign your spine, relieving the pressure and not only reducing your pain but also improving the overall function of your body.
Benefits of Physical Therapy
When you've sustained an injury or are out of alignment, your body goes through an inflammatory response and produces scar tissue. Left unattended, both can lead to pain, as well as the loss of mobility and range of motion.
As part of your shoulder pain treatment plan, your physical therapist will help stop the build-up of scar tissue and break it up with massage and movement. They'll help you strengthen your muscles and regain your flexibility and range of motion.
We Feel Your Pain and Want to Help East It Fast!
Drs. Ryan Vale and Matthew Schindlbeck understand pain. Dr. Vale struggled with migraines for years, while Dr. Schindlbeck suffered from low back pain.
It was relief through chiropractic that led them to become Plano chiropractors. They understand how debilitating neck, shoulder, and back pain can be and want to help you get out of it as quickly as possible.
Using a multi-tiered approach, they've been able to help hundreds of patients find relief through safe, natural approaches to pain treatment.
Ready to stop dealing with pain? Contact our team at 972-781-1878 to schedule an appointment.

Posted In: Chiropractic Shoulder Pain