Optimize Your Energy and Health with Good Workplace Ergonomics
Optimize Your Energy and Health with Good Workplace Ergonomics
Written By ChiroConcepts of Plano West on January 18, 2021
---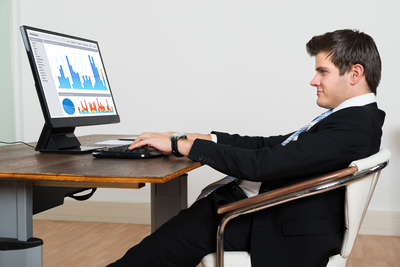 Do you get headaches at the end of your workday? Do you feel stiff and have a sore neck and shoulders?
Often, the problem is your posture and workplace ergonomics.
Taking steps to improve them will go a long way to keep you healthy and energized while reducing the likelihood of debilitating pain (like headaches and migraines).
Your Plano chiropractor can help you implement ergonomic adjustments so that you're more productive and pain-free at work.
Why You're in Pain and How to Improve Workplace Ergonomics
With more people working from home these days, it's no wonder so many people are dealing with fatigue, sore muscles, and headaches. Most people's homes are not set up to be a workplace. In many cases, people are working at their dining room table or on their couch, neither of which are conducive to good posture nor ergonomics.
What can you do to improve your workplace ergonomics, whether you're working from home or an office?
Steps You Can Take to Improve Workplace Ergonomics
Let's start with your posture. Your Plano chiropractor can recommend exercises that strengthen your core so you can have better posture, which means you'll have less muscle strain throughout your back.
Your chiropractor can also make lifestyle recommendations. For example, if you spend a lot of time on your phone, tablet, or laptop, they'll likely recommend taking more frequent breaks or investing in stands that allow you to look at your device at eye-level.
Finally, let's tackle workplace ergonomics. One of the most important things you can do is raise your computer screen. Leaning forward or looking down at a screen puts excess pressure on your neck. Additional changes to make:
Invest in an ergonomic keyboard
Make sure you situate your chair so that your knees and elbows bend at a 90-degree angle (neutral position)
Use a footrest to keep your legs in a neutral position
Invest in a comfortable office chair
Take breaks to reduce the chance of injury from repetitive motions
Avoid lifting heavy objects if possible
See Your Plano Chiropractor for Work-Related Pain
What should you do if, after implementing good workplace ergonomics, you're still experiencing pain? ChiroConcepts of Plano West can provide further recommendations, as well as treatments that can ease your pain fast.
Think your posture or workplace ergonomics could use a little work? We can help! Contact us today at 972-781-1878 to schedule an appointment.

Posted In: Chiropractic